Merry Christmas From Olivia, Gabriella, Sasha and Michael.
We have been a little lax on getting the regular posts up, but we'll catch up pretty soon. We have lots of fun pictures of Olivia and Gabriella to share with all of our wonderful friends and family.
For now, enjoy this Christmas Present from us to you. It's our annual Christmas CD.
Just right click each link below and choose "Save target as…" and choose a folder or create a new one, and save all the songs. Once you get them all, you can burn an audio CD of the MP3s and you can even download and print the CD covers as well. Just do the same thing for the front and back cover image.
Enjoy and Merry Christmas from Olivia and Gabriella and their Mama and daddy!
MP3s
1. Frosty – Interlude 1
2. Henry Mancini – Frosty The Snowman
3. Pearl Bailey – Jingle Bells Cha-Cha-Cha
4. Eddie Dunstedter – I Saw Mommy Kissing Santa Claus
5. Frosty – Interlude 2
6. Dean Martin – Let It Snow! Let It Snow! Let It Snow!
7. Connie Francis – Baby's First Christmas
8. Peggy Lee – Christmas Carousel
9. Lena Horne – Santa Claus Is Comin' To Town
10. Frosty – Interlude 3
11. Andy Williams – It's The Most Wonderful Time Of The Year
12. Les Brown & His Band Of Renown – The Nutcracker Suite
13. Kay Starr – I've Got My Love To Keep Me Warm (Remix)
14. Bing Crosby – Happy Holidays (Remix)
15. Frosty – Interlude 4
16. The Andrews Sisters – Sleigh Ride
17. Bob Atcher & The Dinning Sisters – Christmas Island
18. Brenda Lee РPapa N̦el
19. Frosty – Interlude 5
20. Porter Music Box – Greensleeves
21. Paul McCartney & Wings – Wonderful Christmas Time
22. Frosty – Interlude 6
23. Eartha Kitt – Santa Baby
24. Johnny Mathis – We Need A Little Christmas
25. Frosty – Interlude 7
26. Barry Gordon – Nuttin' For Christmas
27. Mickey Mouse – From All Of Us To All Of You
Front Cover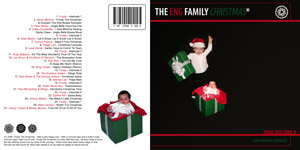 Back Cover