Merry Christmas From Olivia, Gabriella, Sasha and Michael.
Here is our annual Christmas Present for all of our friends and family. We hope you enjoy it!
Just right click each link below and choose "Save target as…" and choose a folder or create a new one, and save all the songs. Once you get them all, you can burn an audio CD of the MP3s and you can even download and print the CD covers as well. Just do the same thing for the front and back cover image.
Merry Christmas! We love you all.
MP3s
01 – Bing Crosby – Winter Wonderland (Bent Remix)
02 – Porter Music Box – Dance Of The Sugar Plum Fairy
03 – Andre Kostelanetz – It's Beginning To Look A Lot Like Christmas
04 – Patti Page – Christmas With Patti Page – 'Twas The Night Before Christmas
05 – Peggy Lee – I Like a Sleighride (Jingle Bells)
06 – ZOEgirl – What Child Is This
07 – The Rudolphs (With Dannielle Gaha) – The Man With The Bag
08 – The Fontane Sisters – Nuttin' For Christmas
09 – Ira Ironstrings – Jingle Bells Stomp
10 – Bert Kaempfert – Jingo Jango
11 – Jackson 5 – Santa Claus Is Coming To Town
12 – The Beach Boys – Little St. Nick
13 – Steve Lawrence & Eydie Gorme – Baby It's Cold Outside
14 – Bing Crosby & Ella Fitzgerald – Rudolph, The Red-Nosed Reindeer (John Beltran Remix)
15 – Louis Armstrong – Zat You Santa Claus (The Heavy Remix)
16 – Les Brown & His Band Of Renown – I've Got My Love To Keep Me Warm (Psapp's Lady Remix)
17 – Peter White (With Mindi Abair) – I Can't Wait For Christmas
18 – KT Tunstall – Sleigh Ride
19 – Berlin Symphony Orchestra – Dance Of The Sugar Plum Fairy (Red Baron Remix)
Front Cover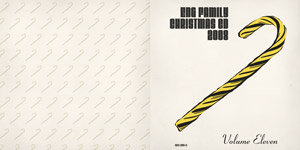 Back Cover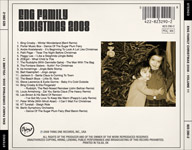 Remember that you can still access the last three volumes online at the links below:
Christmas 2005, Volume 8